The cybersecurity service that people requires
Strengthening of the organization's personnel, identifying risks, pointing out critical areas and providing action recommendations for their mitigation. Minimize exposure to potential internal hazards with Kymatio.
How does it works
Cyber Risk Assessment & Security Awareness Training
The most efficient cybersecurity training and awareness program that incorporates the human cyber risk management service.

Kymatio allows knowing the alert level of users, assigning a risk level at the individual, departmental and organizational level based on their knowledge of cybersecurity and the type of information handled in each case.
NeuroPhishing (NP)
Neuropsychology allows Artificial Intelligence to train each employee in a personalized way.
Account Breach Scanner (ABS)
Detect if the accounts of the organization have been exposed in security breaches of third-party services.
Cyber Sentiment Analysis (CSA)
Know the stressful situations and elements that affect employees and reduce their level of alertness.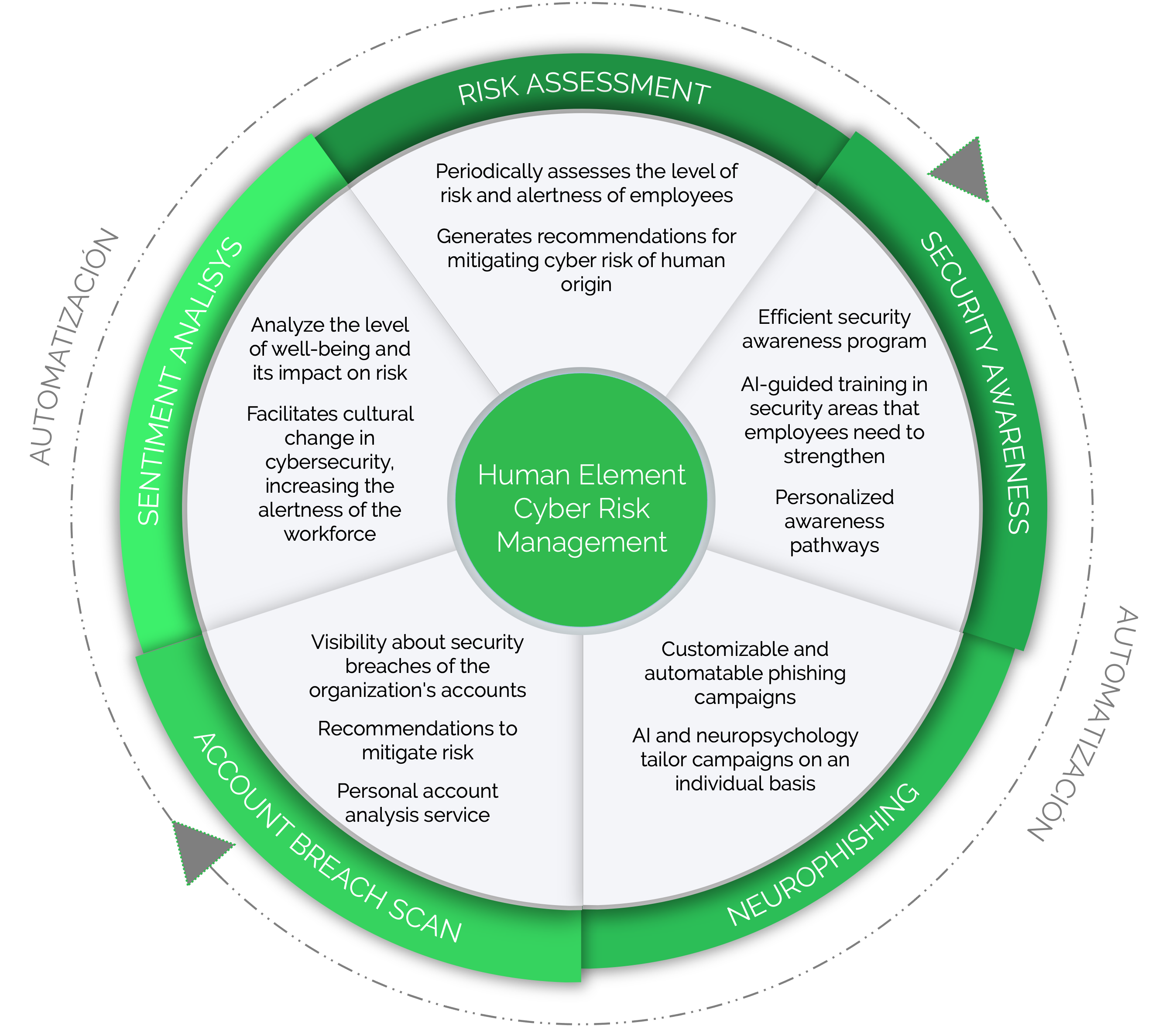 The human element.
Cybercriminal´s preferred target.
More than 90% of cybersecurity incidents involve organization personnel. The average cost per incident in large companies exceeds € 4M and the average cost per incident in SMEs is estimated to be around € 40,000, with the aggravating circumstance that 60% of them close 6 months later.

New threats are constantly being created that attack low-alert users who are unsuspecting and poorly trained in technology and cybersecurity. This makes companies highly vulnerable to social engineering attacks directed at their employees: fraud, carelessness, theft, loss, elicitation, negligence, social engineering.

Lack of workplace security training exponentially increases the risk of one of these targeted attacks and can result in extremely serious exposure, such as ransomware or phishing scams. Trained employees are a critical element of a strong digital risk protection strategy. However, they often lack access to current security awareness that enables a clear understanding of risk scenarios.

Organizations, for their part, often find it difficult to tackle this complex task. They lack the time, budget, and knowledge to run an awareness program that:
Periodically evaluates the risk, the alertness of the users, its evolution over time.
Generate appropriate content and distribute it among the staff based on the particular needs of each person.
Create new content appropriate to changes in the environment.
Train with phishing simulations.
Periodically analyze whether people's credentials have been implicated in security breaches, etc.
Break with conventional solutions with inefficient general courses that involve a large investment of time.
Kymatio adapts to your business
Download your guide for employee cyber risk prevention